November 30th, 2022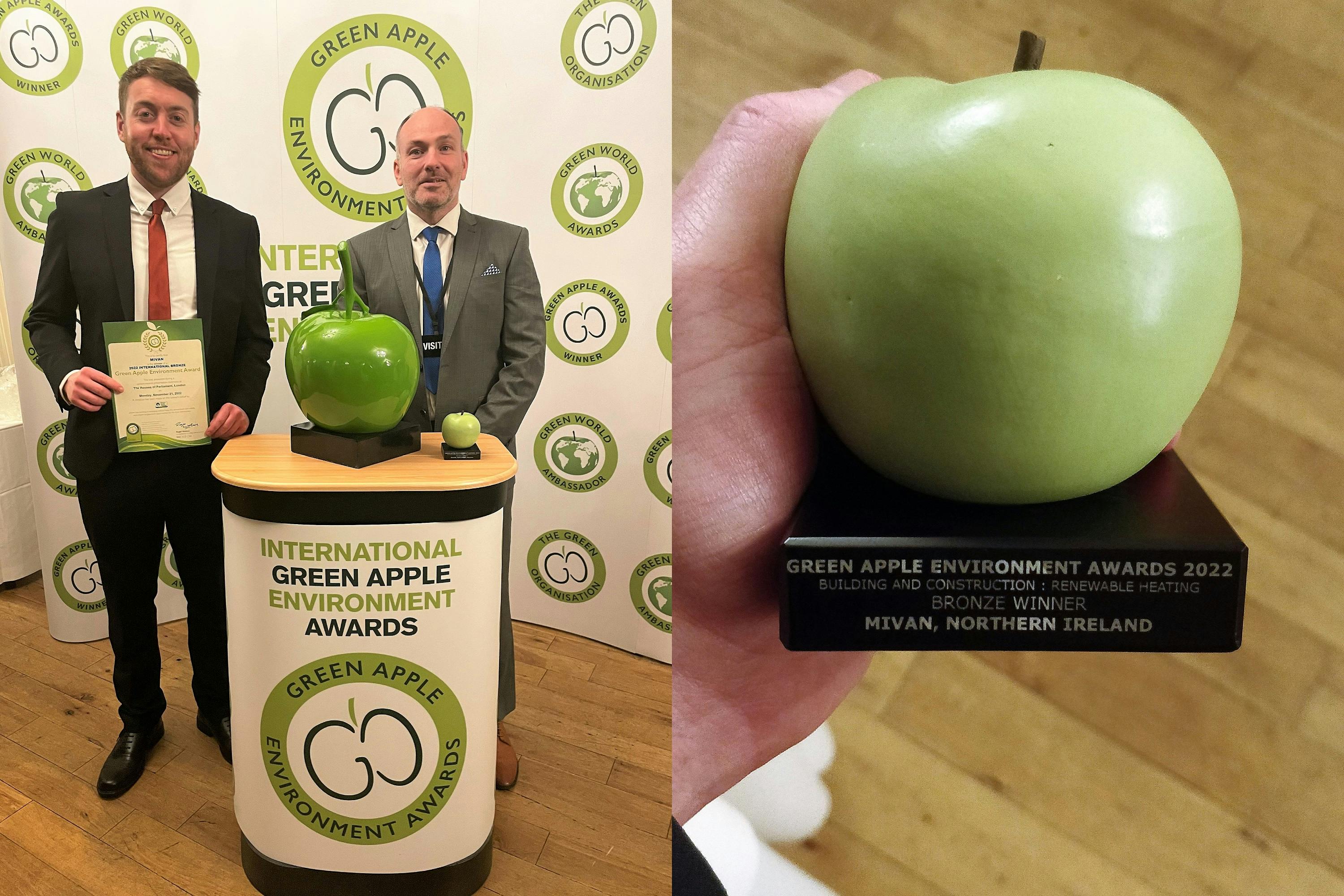 Mivan, the leading fit out and bespoke joinery specialists, have won an International 2022 Green Apple Environment Award from The Green Organisation – an international, independent, non-profit, non-political environmental group founded in 1994 to recognise, reward and promote environmental best practices throughout the world.
The Green Apple Environment Awards were established as an annual campaign to recognise, reward, and promote environmental best practice around the world. The accolade was awarded to Mivan in the Environmental Improvement category for its use of renewable heat and work on waste management - resulting in diversion form landfill.
Mivan now diverts 100% of timber waste from landfill, a large portion of which is through renewable heat generation, with the remainder being recycled.
A biomass boiler was installed and so far, has generated roughly 515MW per year. We have an approximate feed of 140 tonnes of timber waste into the boiler each year. The biomass boiler uses the timber waste, that has been mulched down and reshaped into easily burnt pellets, to convert waste into renewable energy. This is waste that has now avoided landfill and the renewable energy source now provides heats to over 70% of our premises including the manufacturing workshop and office premises. This accounts for approximately 150 people daily.
Before the factory and office used natural gas supplied from the mains to heat the premises, and due to the nature and scale of our operations our energy consumption was very intensive in terms of cost and carbon impact.
We want to build on this achievement by continuing to introduce more renewable energy schemes, and subsequently increase and further diversify our environmental performance and level of sustainability.
Jonathan Dougherty, SHEQ Manager, said, "We are thrilled at this award and recognition of our achievement. Our renewable heat scheme has been very successful in diverting wood waste from landfill, but we now must improve other areas of the business to help achieve true sustainability."
As a family-owned business, Mivan is passionate about longevity, sustainability, and climate change and continues to be a leading voice, working collaboratively with a diverse supply chain, clients, and others to minimise their collective impact on the environment.
Mivan competed against more than 500 other nominations in the International Green Apple Awards and collected the trophy and certificate at a ceremony in the Houses of Parliament, London.