February 3rd, 2023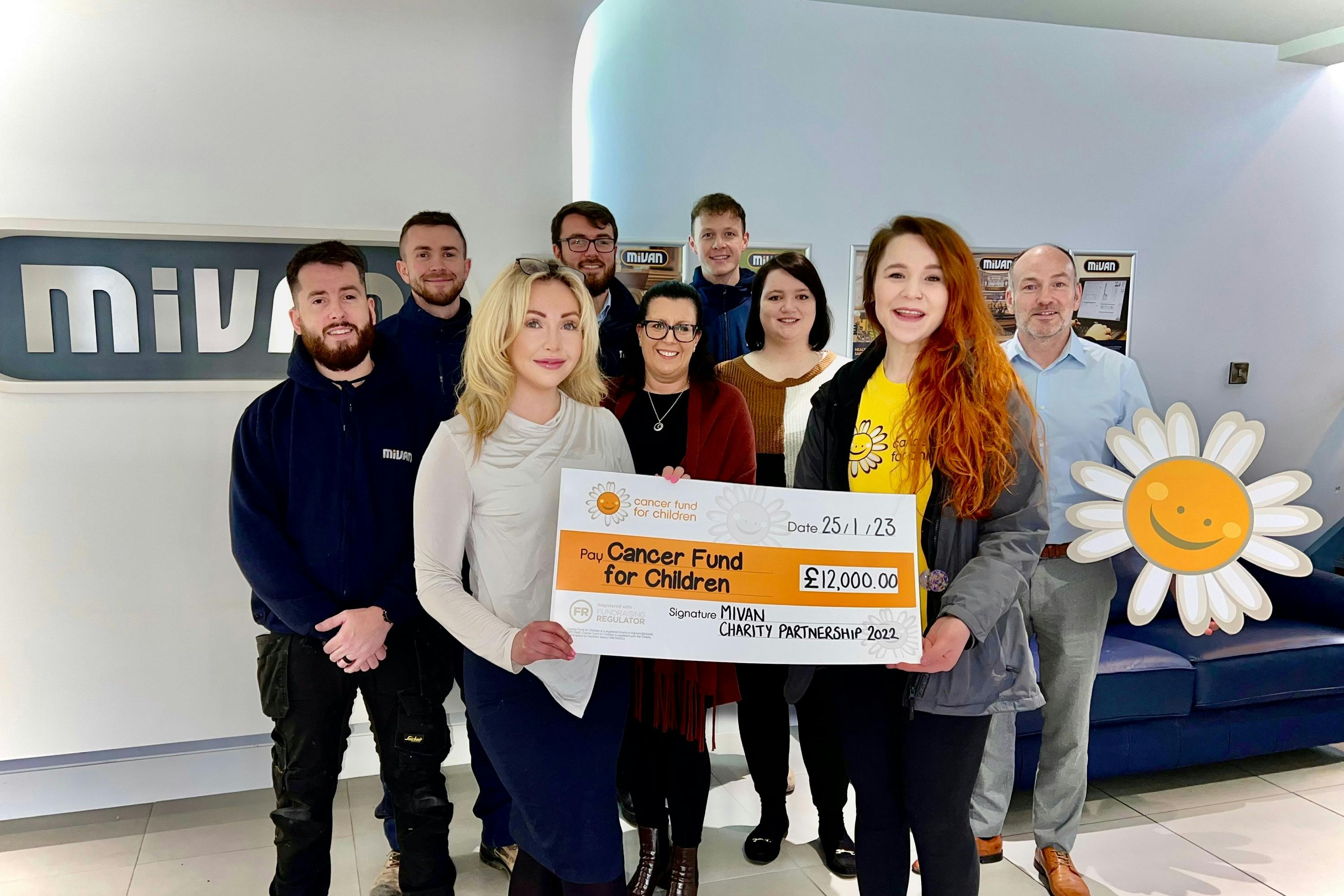 Mivan's charity partnership with Cancer Fund for Children during 2022, has led to £12,000 being raised to help children and young people ensure they never have to face cancer alone.
Mivan people took part in a wide range of fundraising activities and challenges including a bake off, a spinathon, Belfast marathon, a mountain hike, a sky dive and a bog run over the past year to raise vital funds for the leading cancer charity for children, young people and their families.
There are too many events to mention in one article, but we've picked out a few of the highlights below!
May saw the Mivan relay teams take to the streets of Belfast to run the marathon – all successful completed their legs and raised over £500.
In September, Mivan CEO, John Cunningham, grew his wings and took to the skies to complete a sky dive from 10,000 feet – thanks to all suppliers, donors and supporters who helped this great feat raise over £5,000.
October's cold weather was perfect for a bog run in Castlewellan Forest Park. All Mivan team members fully embraced the bog, and some ended up much dirtier than anyone else – another great event which raised over £1,500.
A wonderful year of fundraising activities was completed around Christmas time when a number of activities including guess the elf's name, a Christmas Jumper day and candy cane gifts for colleagues helped the total reach £12,000.
Shorlagh McConville, Business Development Manager and Chairperson of the Health, Wellbeing and Social Committee, commented, "I'm very proud of the Mivan team for raising £12,000 on behalf of our 2022 charity partner, Cancer Fund for Children."
"We had so much fun fundraising, volunteering, and offering our joinery services throughout the year to our charity. It was a very special moment for us when our 1st year apprentices used their craft to build a shed for our charity's Daisy Lodge. A great example of using your talents for the betterment of others."

"Thank you to all who donated and supported us throughout the year. We would like to thank the Cancer Fund for Children Team for all your help and for the amazing work you do in our community."
Phil Alexander, CEO, Cancer Fund for Children, commented:
"I just want to say a huge thank you to Mivan for their incredible support throughout 2022, from the moment we launched the partnership we knew Mivan's people had a real commitment to raising vital funds and awareness for Cancer Fund for Children. Not to mention all the volunteering completed at Daisy Lodge, thanks so much."