August 23rd, 2022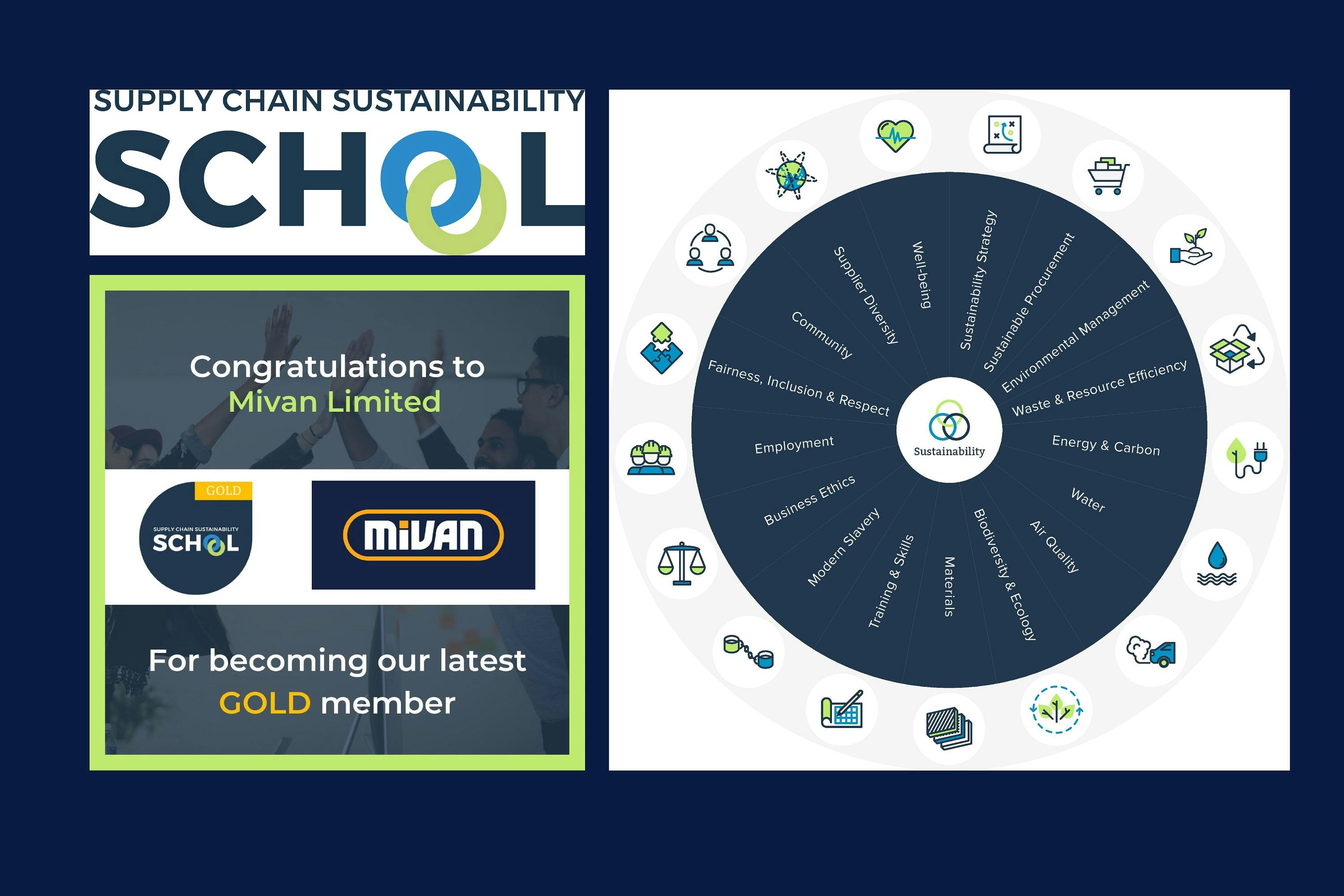 Mivan, the leading fit out and bespoke joinery specialists, has achieved Gold Status from the Supply Chain Sustainability School. This status reflects how engaged Mivan are with the school and is only awarded after a number of activities have been demonstrated to spread the sustainable message.
The School is an award-winning industry wide collaboration, led by Partners and Members whose Vision for the School is to be: An industry where everyone will have the skills and knowledge to deliver a sustainable future.
Mivan joined the School to help improve sustainability throughout the business and supply chains. The School assessments are straight forward and clinical, they allow for easy analysis of current abilities in various areas such as sustainability, procurement, and management. The action plans provided give a structured approach to improving knowledge and the specific resources proved very effective in upskilling members of staff.
One of the biggest challenges faced by Mivan is keeping to the goals set in the sustainability strategy, particularly the company wide target of achieving Net Zero emissions by 2035 – well ahead of the UK Government target of 2050. Carbon management and reporting is a key element of this i.e., recording Scope 1, 2 and 3 emissions.
Another challenge is waste and materials. Mivans total and generated waste rates are good, and diversion from landfill is currently greater than 98% - well above industry standard. This is achieved through measures such as re-using, recycling and energy recovery. Mivan has set an ambitious goal of attaining a 100% diversion from landfill.
The Supply Chain Sustainability School is for anybody working in construction, facilities management, homes and infrastructure markets across England, Scotland, Wales, and Northern Ireland. A huge range of free learning is available, from e-learning to videos to face-to-face training from beginner to expert levels.
The School covers all aspects of the built environment, and focuses on eight main topics: Sustainability, Digital, Fairness, Inclusion and Respect (FIR), Lean Construction, Management, Offsite, People and Procurement.
Mivan has identified costs and carbon savings through the resources provided. We have been exploring the use of alternative fuels for the factory operations. The information provided by the school demonstrated how much of an impact this type of low-carbon transition can have on lowering Mivan's CO2 emissions and improving environmental impact.
Mivan has over 45 years' experience creating luxury interior experiences for our clients. Working collaboratively with architects, designers, contractors, and suppliers to deliver excellence in everything that we do. The company successfully operates in a broad range of sectors including luxury hotels, prime residential, museums, stadiums, arenas, commercial offices, modular solutions and marine. 
To view the Supply Chain Sustainability School case study about Mivan - click here.