June 5th, 2018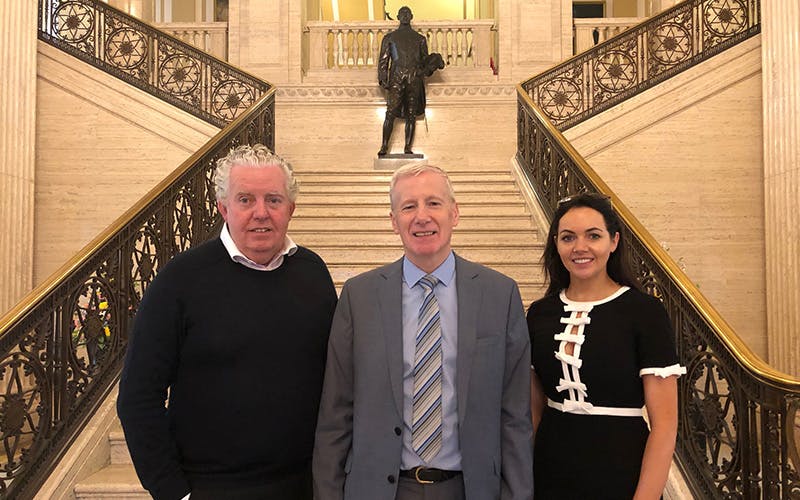 The McConville family who own Mivan and MJM and also the former Shackleton Barracks site in Ballykelly is encouraging businesses to attend the Heathrow Business Summit Northern Ireland. The event which is free to attend for businesses is being held in partnership with Northern Ireland Chamber of Commerce and Industry on Wednesday 20 June 2018 at Belfast City Hall.
This event will allow SMEs across Northern Ireland to meet with Heathrow's procurement team and other major suppliers into the Heathrow supply chain to see if there are opportunities for more Northern Ireland based businesses to win contracts with the major UK airport.
MJM Group has a significant interest in encouraging local supply chain to get involved as the former Shackleton Barracks is one of six sites in Northern Ireland currently in the running for a Heathrow Logistics Hub to support its ongoing expansion.  Four hubs will be chosen across the UK to deliver this project. The hubs will work by pre-assembling components off-site before transporting them in consolidated loads to Heathrow just as they are needed.
Naoimh McConville, MJM Group said, "The potential for the economic development of the region through having a logistics hub at Ballykelly is unprecedented. Heathrow expansion is a national project that will benefit Northern Ireland by boosting productivity, creating jobs, supply chain opportunities and leaving a skills legacy for future generations."
Gregory Campbell, MP for east Londonderry added, "The news that the 'Heathrow Business Summit' is to be held in Belfast in June is very good news. This is an exciting opportunity for small businesses to help develop a logistics hub at Ballykelly. I trust there will be a positive response, from which people across the North Coast and the North West can benefit."
To date an estimated £93.4 million of new deals have been won by businesses, because of the partnerships formed at Business Summits.
The Heathrow Business Summit Northern Ireland will take place at Belfast City Hall on Wednesday 20th June from 10am to 4pm. The event is free of charge. To register to attend please complete an expression of interest form on Northern Ireland Chamber of Commerce and Industry website.